Oil & Gas
A. Activities in Romania: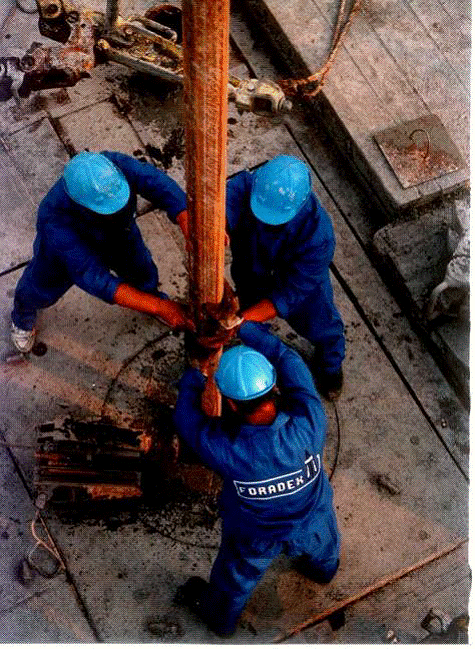 Drilling, testing and completion of 375 wells with depths ranging from 800 m to 7.300 m (over 959,000 m);
Since its foundation in 1939 and up to now, the company's names - ACEX, IGEX, IFLGS, FORADEX - reflected its profile - exploration drilling for useful solid and fluid substances.
During the works for discovering new hydrocarbon deposits, outstanding results were registered especially between 1960-1990.
Among these should be mentioned:
the oil deposit from Abramut
the gas deposit from Galos Petreu
the gas deposit from Ghergheasa
the oil deposit from Moravita
the offshore oil deposit from Lebada Est.
The prestige, the quality of works as well as the results achieved in exploration and geological studies were the main factors that led to the company's nominalization to carry out the works on the Black Sea in shallow water, starting with rig construction and finishing with drilling execution. The first well drilled by the Romanians in the Black Sea was on the location 1 Ovidiu Est, and it is the deepest -5150m- in our area of exploitation. In 1978 was discovered the first oil deposit -Lebada Est- which will be exploited by Petrom nine years later. The company operated with the self-lifting platforms GLORIA and ORIZONT until 1982 when the offshore drilling activity was taken over by Petrom.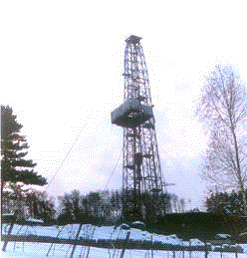 Foradex is to upgrading the most of drilling rigs, with a view to observe the actual international standards ( "AC" driving, frequency variator - VFD, single acting triplex mud pumps, top drive, double motion shale shakers, etc.).
Foradex has drilling rigs with 50 up to 400 t hook load and work-over test rigs for exploration and exploitation wells, for oil, gas and geothermal water.
Also, Foradex has all the necessary equipment to employ different technologies in drilling, casing, storage and handling of pulverous material activities, for preparation and maintenance of different drilling fluid types as well as for flow tests in selected reservoir.
In the past 70 years of activity and experience Foradex registered:
353 deep wells, of which
113 wild cat and prospecting wells with depths of over 3,000 m
15 wells with depths over 4,500 m
2 wells over 6,000 m depth.
We have our own:
pumping and cementing trucks fitted with all necessary tools
special tools for recovery, for all casing ranges
basis for preparing special cements for casing cementing as well as the necessary facilities for transport and storage to well site
Mud logging laboratory using computerized cabins
Most of the drillings for hydrocarbon executed in the country, had as beneficiary PETROM, in all its forms of administrative organization (ministry, department, national company) Foradex has been the drilling contractor for the American company HEMCO ROMANIA Ltd. for their gas wells with 2,000 – 2,300 m max. T.D. in the Vartoapele area.
B. Overseas activities:
In the last 30 years Foradex has carried out a wide range of overseas drilling works, as contractor or subcontractor, providing its own equipment, tools and accessories and its experienced and qualified personnel.
Foradex fulfilled all its contractual obligations with excellent references andsuccessfully carried out all overseas works to the satisfaction of thebeneficiaries/operators.
Consequently, we are present for quite a few years in the eastern part of Kazakhstan, in Tunisia where we are drilling and executing work-over works and in Bulgaria where we were subcontractors for an American company.
ALGERIA: Foradex supplied specialists and technical assistance for oil wells, for SONATRACH.
REPUBLIC of MOLDAVIA: Foradex carried out drilling and workover for oil and gas wells, for "REDECO" Moldova (subsidiary of REDECO Co-USA).
KAZAKHSTAN: Foradex has been the drilling contractor for their oil wells with 2,300 – 2,500 m max. T.D.
BULGARIA: Foradex has been the drilling contractor for CBM ENERGY BULGARIAN BRANCH there oil well in the VRANINO.