Foradex Drilling
About FORADEX Drilling Company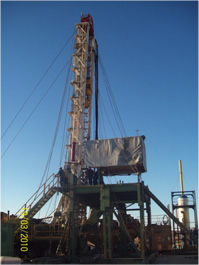 Foradex Drilling SA
operates as an independent company according to its articles of incorporation and its main object of activity is the provision of services for oil, gas and geothermal water drilling.
Foradex Drilling SA was set up in 2012 being detached from FORADEX SA subsequent to company reorganization.


A brief historical background of S.C FORADEX S.A., a company with more than 73 years in the field of drilling:


Since its foundation, the main object of activity of S.C FORADEX S.A. has been the execution of surveying and exploration works by means of drilling, mining and other specific methods in order to discover new oil, gas, geothermal water resources as well as other useful mineral substances (coal, minerals, rocks),and the development of technical procedures related to drilling activities. The expertise acquired in the exploration and exploitation of mineral resources can be synthetically exemplified by:
850 deposits found rich in oil, gas, geothermal waters, mineral and plain waters, various minerals resulted from the geological research performed in Romania among which:

oil and gas deposits discovered on the Black Sea continental platform;
geologicaland hydrogeological surveys of lignite deposits in Oltenia;
iron deposits at Ghelar;
copper deposits at Moldova Nouă;

drilling of over 940,000 meters in search of oil and natural gas through 365 wells located in Romania, Bulgaria, the Republic of Moldavia andKazakhstan;
around 400,000 meters of drilling in Romania forhydrogeological research leading to the identification of more than 100 exploitablewateraquifers;
more than 760,000 meters of drilling for the water supplies of Romanian towns and another 480,000 meters of drilling in Libya andZambia;
over 3,800,000 metersof diamond and RC drilling for the geological search of solid mineral substances in Romania, Peru, Tanzania and Zambia;
over 360,000 meters of drilling for geothermal water of which 340,000 meters in Romania, and the rest in Greeceand Tunisia;
development of drilling technologies of large diameters up to a 4,000 mm diameter and down to 400 m depth, with suction wells, for the mining exploitation of crude oil and iron.
Company Definition and Scope of TUNISIA

The Department for Oil and Gas in Foradex provides services in the field of research and exploitation of hydrocarbon and geothermal resource deposits in North Africa, especially in Tunisia.

Its activity has the following structure:


Foradex Petrole Drilling has been operating in the Sahara Desert and the pre-Saharan area of Southern Tunisia for over three years and has performed the following activities during the last three years.
Drilling rig:

Rated input power – 1000 HP
Year of construction – 2007
Drilling capacity w/ 5" DP – 2800 m
Drilling capacity w/ 3 1/2" DP – 4200 m
MR 8000 Drilling Rig Performance:

API gross nominal capacity – 528.000 lbs
API static hookload capacity – 440.000 lbs
Clear height between RB and GRDL – 17 ft Traveling block rated capacity – 200 MT
Mud system capacity – 220 m3
Shale shakers – Mongoose (2 pcs.), BEM III (1 pc.)
Degasser, desander, desilter and mud cleaner
Trip tank and sand trap
Mud tanks – 3 pcs. X 65 m3
Drilling water tanks – 2 pcs. X 40 m3
Mixing pumps, hoppers and agitators
Mud flow and mud pit level indicators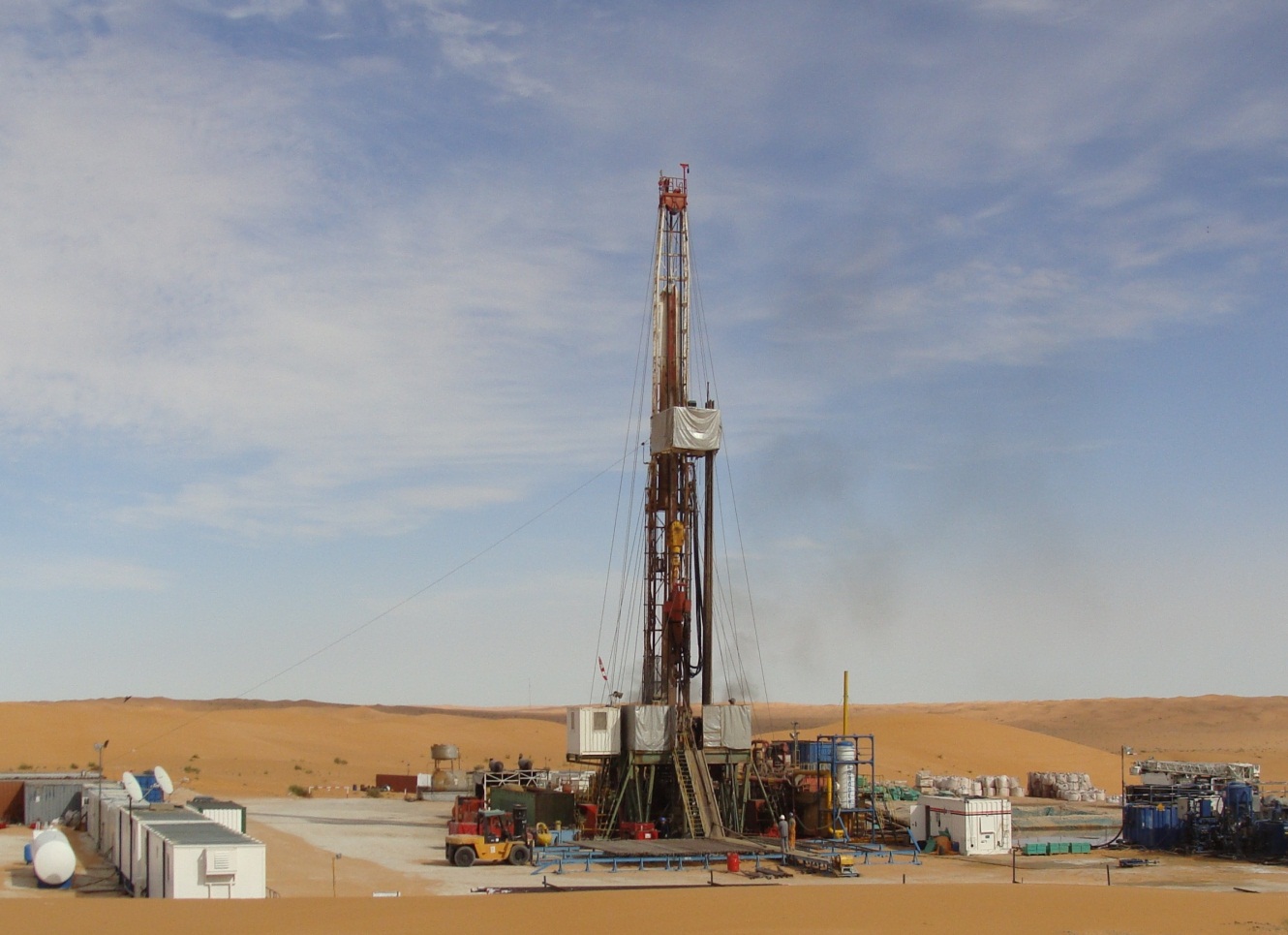 The FORADEXMR 8000 DRILLMECRig #14 DIESEL operated drilling rig with CAT 3408 engines, 1000 HP rated input power and 200 MT hook-load capacity.
A variety of works can be performed such as
:
Horizontal drilling for surveys and/or exploitation of crude oil and gas down to 4,500 m deep;
Controlled and/or horizontal exploitation drillings of crude oil and gas down to 3,000 m deep;
Work-over and major repairs of wells;
Production tests for hydrocarbon wells;
Endowment of drills for their start up;
Experimental exploitation of hydrocarbondeposits;
Interventions in exploitation wells.
Map of sites in Tunisia where FORADEX operated in 2012: - some examples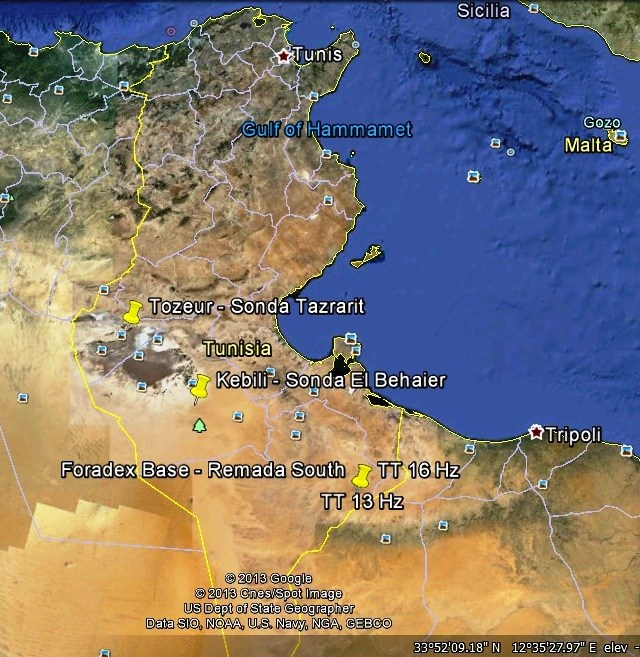 We provided services in the field of hydrocarbon extraction for Winstar BV and Storm Ventures International, both Canadian-based companies.
Foradex Drilling Branch has been operating in central and South-West Tunisia as well as in the pre-Saharan area for 15 years.
The park of Tunisia branch includes the FRANKS CABOT 900 drilling rig.The rig output is 900 HP and its hook-load capacity is 160 MT, DIESEL operated.
Accomplishments and Objectives
The operators which our company provided services for in the field of hydrocarbon extraction were Winstar BV and Storm Ventures International, both of Canadian origin.
In terms of the performance of Foradex Drilling Branch, the main beneficiary was the Ministry of Agriculture by its regional offices on the territory of Tunisia.
The future projects which got us involved in ample tenders are to take place all throughout 2013 and some of2014.
Drilling better horizontal wells, improving the already existing equipment and increasing performance are the three main goals of the branch this year.
The completed wells on production field Bir Ben Tartar (South Remada) have reached a production amount of over 10,000 bbl/day. The deposits are depleted, there is still a constant bottom pressure and most drills start by natural eruption. Production may be maximized by work-over and infill drilling.
Prospects and Commitments in 2013
Foradex Drilling is to undertake the following works in 2013:
Foradex Drilling SA through its water business branch has entered into a contract with Tunisia's Ministry of Agriculturefor the drilling of two geothermal water wells, due to start in March 2013 and estimated to be completed in November 2013.
Foradex Drilling SA through its oil and gas branch has won the tender with its Canadian partner STORM, and isdue to start drilling works in March 2013, for the purpose of drilling 6 horizontal welllls + 4 vertical wells, with estimated time of completion in June 2014.